Community - the focus of action
Peregian Beach Community Association engages community on many levels. While a core group of Association stalwarts provide the basis for a cohesive community organisation, letterbox drops, monthly meetings and regular guest speakers on a range of topics serve to inform and encourage local residents to  become involved with the Association and experience the satisfaction of community participation at beautiful Peregian Beach. Everyone is welcome to attend the meetings held in Victory Park at 10am on the first Sunday of the month (byo chair) and stay for a cup of tea or coffee after the meeting.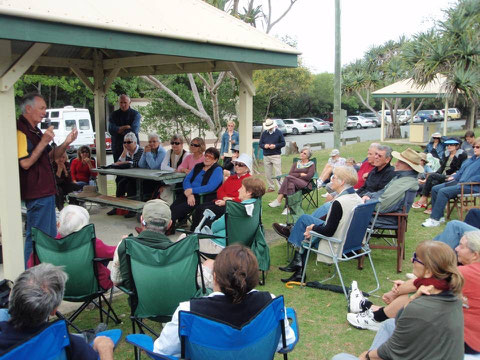 Professor Ian Lowe addresses Association members and guests on the importance of a sustainable future for the Sunshine Coast at a monthly meeting held in Victory Park.
Local birds gifted to Peregian Beach community
On Friday 19th September, the Peregian Beach community gathered to celebrate Ted Barraclough's generous gift to the community; a display of his beautifully carved birds recently installed at Peregian Beach Community House.  John Fuller's innovative casing for Ted's beautiful birds was funded by a Noosa Council RADF Grant, which was facilitated and managed by Rochelle Gooch on behalf of the Peregian Beach Community Association.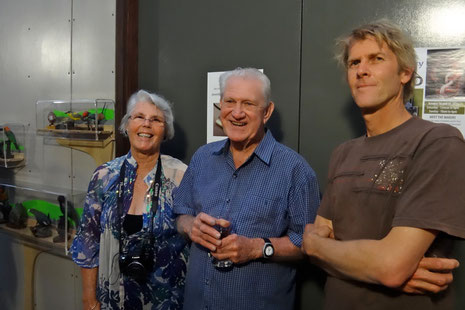 Rochelle Gooch, Ted Barraclough and John Fuller 
Ted has been carving wood since his childhood in Queensland. He started by carving wooden toys which were soon followed by people and animals. The birds came later. As a boy in the bush, he knew all the bird species that frequented the family farm and nearby creek. 
Now in retirement, Ted's lifelong hobby has become an art form and his hand painted carvings can be spotted in galleries and private collections across Australia and overseas. Now, Peregian Beach residents are privileged with a unique Barraclough installation. 
Ted incorporates personality, habits, and even a quizzical demeanour into his bird carvings.  Pop in and see the collection sometime soon. You might just think you've been bird watching.
School Plantathon
Below, Peregian Beach Community Association secretary, Rochelle Gooch provided expertise and direction for a St Andrews Anglican College plantathon at Peregian Beach.