Testing beginnings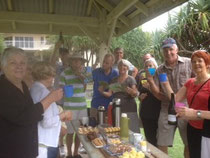 The Association began life through interesting circumstances as the South Peregian Beach Community Association in July 1998. As members' focus widened, it was later incorporated as the Peregian Beach Community Association in September 2004.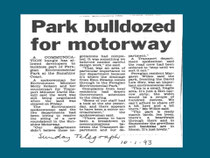 Initially, in 1993, the prospect of a local road and part of an environmental park being converted to funnel traffic from a major arterial through the quiet backstreets of southern Peregian Beach caused concern to residents.
In protest,  locals successfully lobbied authorities to change their plans. This action marked the birth of a cohesive and talented community group and the creation of the beautiful Lorikeet Park.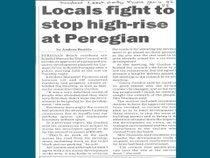 Similarly, this group's 1996 protest against an unsympathetic and oversized 8 storey highrise of 29 apartments was again successful. This action demanded ongoing vigilance, persistence, research and an awareness of planning legislation and procedures at state and local government levels. Such was the outcome of this doggedness, that the park where the Association's monthly meetings are now held is officially named Victory Park in recognition.
For many years, the community of Peregian Beach was split between the shires of Maroochy and Noosa with the southern part in Maroochy local government area and the north in Noosa. Maroochy council provided very few services to South Peregian in proportion to the rates collected. The Association successfully lobbied the State government to refer to the Local Government Boundaries Commission a question seeking the amalgamation of South Peregian into the Noosa shire. The Commission accepted the Association's submissions and amalgamation with Noosa took place in 2004.
The park comprising Vicotory Park and other lots behind the dunes were, until recent times, still held by the original land developer of Peregian Beach. At the Association's urging the then Noosa council had the land transferred and became trustee for it so the land is now public land. 
Association members, supported by the Association, were instrumental in building and establishing the Peregian Beach Community House in 2010. The House is regarded as a major contributor to the welfare of Peregian Beach.
The Association played a significant role in supporting the Council's opposition to the removal of the Peregian Caravan Park and redevelopment of the site. The Association continues to urge the Council and developers to consider the needs of the local community.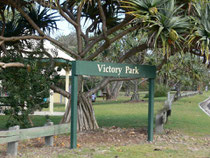 The Association's Dune restoration began on June 12, 1998 when two Peregian Beach residents were elected to be representatives at the Coolum Coastcare meetings. On Sunday August 8, 1998, an educational working bee focussed on weeding was conducted adjacent to Victory Park by Greening Australia coordinators. Coolum Coastcare members assisted and 31 of the 40 Association members present volunteered for the revegetation work, beginning in an area between two walkways. After two hours, a truckload of rubbish was removed. Further clearing with the help of a bobcat followed and the first plantings began.